Keď si predstavíte farmu, tak vám napadne čerstvo vypestovaná kukurica, mrkva, šalát, dobytok a široká škála iných produktov. Reštaurácia Greenleaf Gourmet Chopshop v južnej Kalifornii, ktorá ponúka čerstvé autentické jedlo priamo z farmy ekologického hospodárstva na stôl mala problém spracovať ich rozsiahle menu do čitateľného formátu pre svojich zákazníkov. Na riešenie tohto problému si k spolupráci pozvala spoločnosť Embed Digital s ktorou vypracovala digitálne menu podľa prípadovej štúdii.
"Snaha o vytvorenie autentického a lokálneho zážitku v stravovaní rozlišuje Greenleaf Gourmet Chopshop od iných reštaurácii v oblasti zdravého stravovania," povedal vedúci spoločnosti Jonathon Rolo v pripravovanej štúdii. Reštaurácia potrebovala zobraziť svoje menu tak, aby to vyhovovalo jej zdravému obrazu a firemnému heslu "eat well, live well".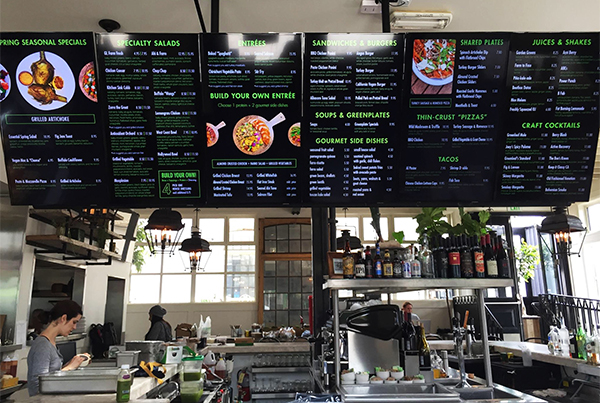 Panelové menu im poskytlo šesť-obrazovkové stropné riešenie zobrazenia menu ponuky, ktorú je možné usporiadať na rôzne segmenty, podľa potreby a času. Takto zobrazené menu je možné upravovať podľa potreby, každú hodinu, čo je pre reštauráciu kľúčové. Panelové menu tiež obsahuje automatický pohyb obrázkov na premietanie produktov a znaku lístka, ktorý je marketingovým symbolom toho, že sa Greenleaf zaoberá lokálnymi a udržateľnými zdrojmi potravín.
"Greenleaf ma najviac zákazníkov hlavne počas happy hour alebo víkendového doobedia, takže môžeme nastaviť rôzne verzie ponuky, ktorá sa zobrazí počas týchto hodín," povedal Mike Sisco, riaditeľ Embed Digital. "A pretože je obrazovky vidieť aj z rušnej pešej ulice, nastavili sme to tak, aby sa ponuka zobrazovala aj počas času, keď majú zatvorené a tým pádom lákali potencionálnych zákazníkov."
Panelové menu tiež zrýchlilo celkový chod reštaurácie, pretože zákazníci si môžu rýchlo a jednoducho preskúmať ponuku. Čo podľa prípadovej štúdii viedlo k celkovému zvýšeniu tržieb.
SaveSave
---
---